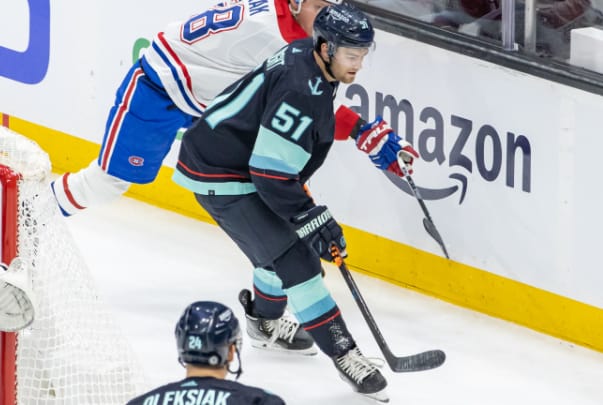 Shane Wright, Seattle Krakem (photo by Jen Goldberg, courtesy of Emerald City Hockey).
Shane Wright has gone through a whirlwind so far this season. Let's look at what's next for the future Seattle Kraken star.
Seattle Kraken rookie Shane Wright has had a roller coaster last half of the year. And now there is a new wrinkle.
As a teenager, he was highly touted as a future NHL star. After being projected as the top overall pick in 2022, he slid down the ranks and fell into the Seattle Kraken's lap at fourth overall.
Some organizations thought Wright had an attitude problem and would bring issues to the locker room. Maybe they overlooked the huge amount of talent he brings to the table. But with every rookie not named Wayne Gretzky, Mario Lemieux, or Sidney Crosby, there are growing pains.
In six months, Wright has gone from a top-five NHL pick to a healthy scratch for 5 games to a conditioning stint in the AHL, and now the Seattle Kraken loaned him to Team Canada for the World Junior Hockey Championship. Oh, and let's not forget he scored his first career NHL goal!
One day, December 6, 2022, will be the answer to a trivia question – when did Shane Wright score his first NHL goal? It was on the Seattle Kraken's home ice during the first game back from his 14-day conditioning stint with the Coachella Valley Firebirds.
Who was it against? None other than Montreal, the team who had the opportunity to select him with the #1 overall pick in the 2022 NHL Entry Draft.
Next: Page 2 – Saying the right things