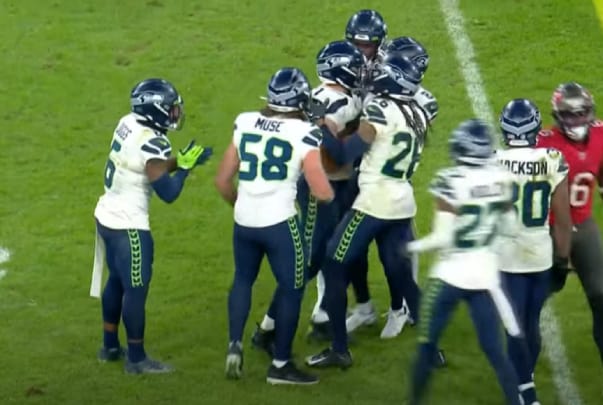 Seattle Seahawks celebrate after Cody's picked off Tom Brady.
This game started well, as the first three drives led to points for both teams. Los Angeles started hot with a ten-play, 77-yard drive that ended with a TD. The drive was capped off with a one-yard run from Cam Akers for a touchdown.
A last-minute touchdown put the Seattle Seahawks ahead for good in a 27-23 win over the Rams in Los Angeles. Here are our Dud and Stud of the game.
The Seattle Seahawks responded with a 6-play, 75-yard touchdown drive of their own. Kenneth Walker started the drive off with a bang with his 30-yard run. The drive ended with a 36-yard bomb from Geno Smith to Tyler Lockett for six.
L.A.'s next drive went nowhere. They settled for a field goal, making the score 10-7.
After both teams punted, the Seahawks drove down the field on a drive starting at their nine-yard line. Smith completed long passes to Colby Parkinson, Noah Fant, D.K. Metcalf, and Lockett, respectively. This offensive display ended with a short touchdown pass from Smith to Fant.
Cornerback Tariq Woolen stopped the Rams next possession when he picked off Wolford on a deep pass. Unfortunately, the Seahawks couldn't take advantage, with a 3-and-out, and punted it back.
Seattle came out of the gate in the second half with a vengeance, completing 2 passes to Metcalf for 12 and 19 yards. However, that all amounted to nothing when Smith was sacked a couple of plays later and fumbled the ball.
After the fumble, the Seahawks' defense made a stand, forcing Los Angeles to go three and out. Seattle then settled for a field goal and extended their lead to 17-13.
Bobby Wagner got a little revenge on his old squad when he wrestled the ball out of Tony Jones's hands for an interception. The Rams capitalized with a field goal to take a 17-16 lead.
Metcalf got the final touchdown, and Cody Barton sealed the victory with an interception to end the Rams' chances at a comeback. With this win, the Seattle Seahawks improved to 7-5.
Next: Page 2 – Dud of the week