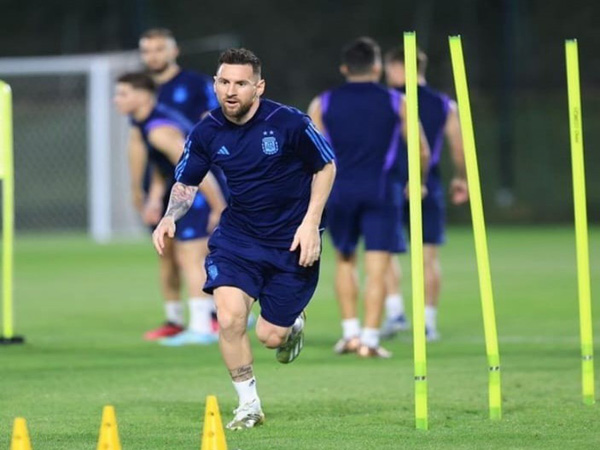 Anilava Chatterjee, Qatar: It was a chilly evening at the Qatar University Ground as Lionel Messi led Argentina trained ahead of the big semi-final clash of FIFA World Cup 2022 against Croatia on Tuesday. Most of the Argentine players were wearing the upper portion of the track-suits as they entered the flood-lit pitch. There were as many as 400 journalists, mostly photographers and videographers capturing every move by Messi. The seven-time Ballon D' Or winner has said before arriving in Qatar that it will be his last World Cup, which has only led to increased attention. The talisman has won every major club and national team title, except the World Cup. He came close in 2014, but the South Americans lost to Germany in the final.
Messi was all smiles and showed no signs of feeling pressure or nerves at the training session on Monday. The Argentina captain had a new hair-cut ahead of the semi-final fixture.
Lionel Scaloni's side will be wary about the fact that the last time these two sides met in the World Cup, the Albiceleste were handed a 0-3 embarrassment in Russia. Several members of that Croatian team are still around to try to make lightning strike twice in Lusail.

Scaloni did warn his boys not to be complacent. According to the gaffer, Croatia is a tough opponent.
"Croatia's tenacity, the way they remain spirited throughout 90 minutes can give trouble to his side. We will try and give their everything on the pitch," said Scaloni in the pre-match press conference.
He went on to add, "We have done our homework about their strengths and weakness which I would not like to share it here. We are ready."
The Argentina manager has had high regards for Luca Modric.
"He is a role model – not only with his talent but how he has carried himself both on and off the field is incredible."
As far as the team news is concerned both Marcos Acuna and Gonzalo Montiel will be unavailable as they received two yellow cards. Nicolas Tagliafico will come in place of Acuna. So, Argentina's back four will be Molina, Tagliafico, Romero and Otamendi
Argentina's possible starting line-up for the semi-final will be: Martinez, Molina, Romero, Otamendi, Tagliafico,  Fernandez, De Paul, Mac Allister; Di Maria, Messi and Alvarez